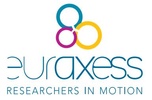 Interested in:
Law, Economics & Business administration
Social & Behavioural Sciences ~ Arts & Humanities
Exact Sciences & Architecture
Young Researchers (PhDs & postdoctoral fellows)
IT, Technology and Engineering
Stand: Casinozaal - interuniversity Job Market for Young Researchers - 8
---
Vlaamse overheid, dept. EWI
Company activities
EURAXESS - Researchers in Motion is a unique pan-European initiative delivering information and support services to professional researchers. Backed by the European Union and its Member States, it supports researcher mobility and career development, while enhancing scientific collaboration between Europe and the world.