Company file of Legend Biotech Belgium NV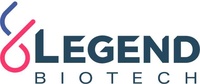 Interested in:
Young Researchers (PhDs & postdoctoral fellows)
---
0470359792
Company activities
Dedicated to quality and driven by excellence, we are committed to improving the lives of patients worldwide. We are steadfast in our goal to develop innovative cellular therapies that bring us closer to a cure. From the very beginning, we've been focused on science. We came together as a team of experts dedicated to quality, driven by excellence, and committed to experimentation. Though we have faced challenges, we remain fearless in our research and rigorous in our thinking, pushing ourselves to work harder. At Legend Biotech, we have the opportunity to change the way treatments are developed across diseases and continents. Our goal is to reinvigorate treatment approaches in oncology and beyond. The spark of hope is lit and we're using that hope to ignite the future of cell therapy!