Company file of Vrije Universiteit Brussel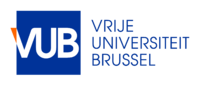 Interested in:
Law, Economics & Business administration
Social & Behavioural Sciences ~ Arts & Humanities
Exact Sciences & Architecture
Young Researchers (PhDs & postdoctoral fellows)
IT, Technology and Engineering
---
Company activities
VUB is an Urban Engaged University in Brussels, the heart of Europe. 20,000 students, nearly a quarter of them from abroad, are engaged in building their future and that of the world. With top-quality scientific research and customised education, VUB makes an active and engaged contribution to a better and more sustainable society.